Our cattery is devoted to Scottish Straights & British Shorthairs.
Founder of the cattery Dr. Karin Roth is a Veterinarian and also one of the founders and active board members of Estonian Cat Association ESTICAT- first TICA club in the Baltics.
The origin of the cattery name Macrory is from Scotland, celtic. Rory means The Red King and Mac means The Son of. So together it is The Son of The Red King. We have dealt with the Scottish breeds since 2005. From 2021 we discontinue the breeding program of Scottish Folds due to their joint problem risk. Even though healthy animals are used for breeding the risk still stays and is not worth the risk. Ethical breeding comes first. Instead we continue with Scottish Straights who have the looks and temper but no health risk and bring in a new breed - British Shorthair.
We have highly recognised cats with American, Russian and Canadian lines. They have Supreme Grand Champions, World Champions as well as other top show class cats in their pedigrees. Cats for breeding are carefully chosen and long waited for.
The aim is to breed beautiful and most importantly well-tempered cats. Quality is more important than quantity. We have high standards for health and there is lots of work before every decision.
Our cats live freely without cages in our friendly family. They are all regularly tested for different diseases.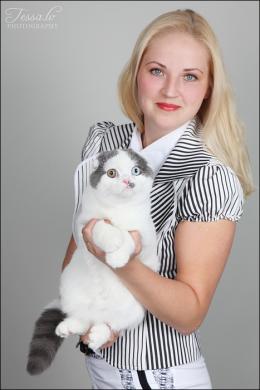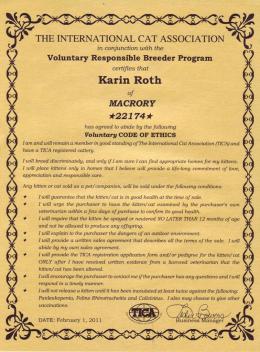 Cattery Macrory is a TICA registered cattery.
We are also registered in CFA, WCF and ACF.
The Macrory cattery deals with two main lines - beautiful traditional colors with white (vans, bicolors, harlequins) and silver/golden shaded point. We are the first to breed pointed cats here also - this will be a good challenge but these bright blue eyes and very exciting exterior is worth it. Work with point and golden/silver shaded lines started on 2011.
---
@[newshot]